Weddings are a stressful affair with so much to plan and articulate. Finding a reliable, reputable and trustworthy events management or caterer for your Asian wedding in Sheffield can be a challenging task. It is the most important day of your life and you want it to be outstanding and unforgettable for your guests and yourself.
There are several aspects of an Asian wedding event to consider when you are planning a joyful occasion. From wedding budget, invites, favours to venues, catering, decoration and many more, you are looking at a rollercoaster ride, as you get ready to plan the most important day of your life.
But if you want to experience a fun and smooth process for your Asian Wedding in Sheffield, you might want to consider Yorkshire based Loonat Catering Services as your asian wedding events manager and caterer.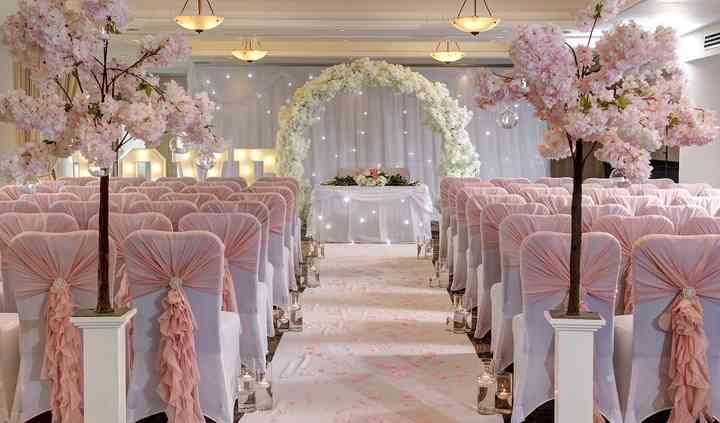 Selecting the Menu
Every Asian Wedding event circles around the most important element: 'food'. An Asian Wedding can become disastrous if the right kind of food, quantity and quality isn't served at the right time. With over 20 years of experience Loonat Catering provides a wide range of Asian, Indian and Punjabi catering and event management services for Asian weddings as well as Middle Eastern Cuisines for the Arab community in Sheffield. You can select from a delectable palette of over 70 delicacies, which include various Punjabi, Asian, Gujarati, Vegetarian, Indian & Middle Eastern starters and main dishes, accompanied with either rice or nan bread.
If you are looking to provide variety for your wedding guests in Sheffield then we have Indo-Chinese starters and Middle Eastern Cuisine, which will leave your guests licking their fingers. You can also select from our Asian-inspired deserts, ice creams and continental desserts to satisfy your guests' sweet cravings.
Don't worry if you wish to play it safe and stick to the good old traditional Asian Wedding Dishes we're pretty good at that too, it's completely up to you whether you go for Asian or non Asian catering.
For those with Indian vegetarian preferences you don't have to worry about what your guests will say because our Asian vegetarian menu is far from being a scanty meal. Loonat Catering has many years of experience in providing unrivalled services, so whatever your dietary requirements are, Loonat Catering Services will make sure they can devise a menu to best suit your needs and your budget for your Asian Wedding in Sheffield.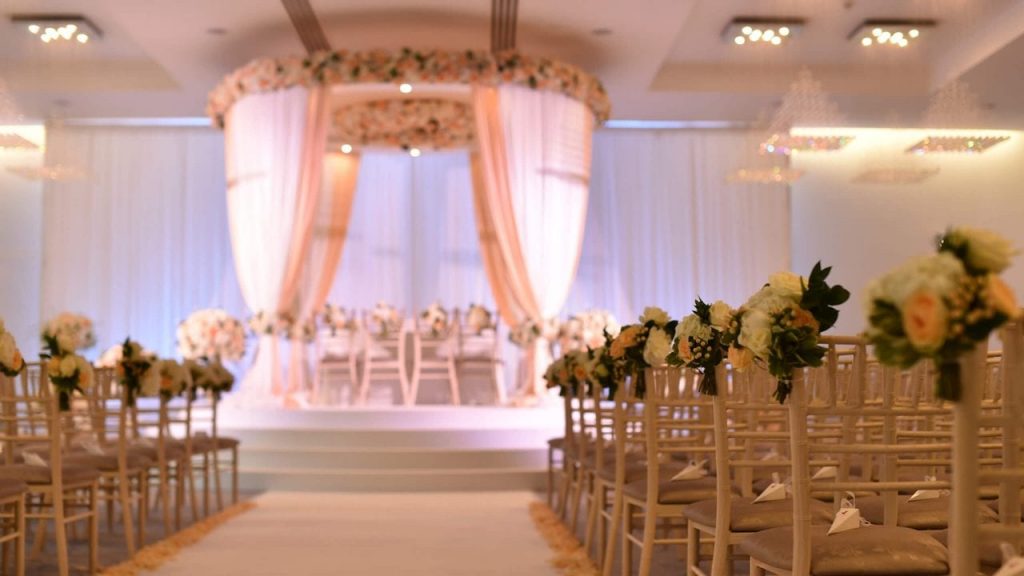 Wedding Decoration & Stage Arrangements
In order to plan a joyous occasion Asian Wedding in Sheffield, whilst it is important to focus on the food and finding the right local Asian caterer, but at the same time decoration and creating the right ambience for your special wedding day is also very important. More and more people are looking for elaborated and detailed stage arrangements and wedding decorations. Loonat Catering Services employs only the best, experienced and professional wedding planners in the business who help take you through a smooth and fun journey while planning your big Asian wedding in Sheffield.
You can speak to the wedding planners about the theme; give them samples of props to be used during functions, colour combinations and examples of Asian wedding stages and decoration items from magazines and websites.
Venue Options
Due to the numbers that Asian Weddings traditionally tend to cater for, people tend to select venues that are closer to where they live and where their guests live. But that doesn't mean for your Asian wedding venue you have to stick to the traditional Asian Wedding Venues of Sports Halls, Sports Centres, Community Centres and so on. In Sheffield for Asian wedding venues you are spoilt for choice with a wide spectrum of wonderful wedding venues that have the capacity and facilities to be a perfect Asian Wedding venue in Sheffield. For surprisingly not much more of the cost of a traditional Asian Wedding Venue you can make your special day in Sheffield amazing by going for any of the wedding venues below as an Asian Wedding venue.
Whilst this is not an exhaustive Asian wedding venue list we have compiled below (in no particular order), there are many wedding venues in or near Sheffield which would be exquisite Asian wedding venues. whether you are wanting the city surroundings or the rural settings, the city of Sheffield has it all to offer.
A few Wedding venues in Sheffield come to mind as suitable Asian Wedding Venues:
•Holiday Inn Royal Victoria – Caters for 500
•Magna Science Centre – Caters for 2000 (750 in a sitting)
•Kenwood Hall – Caters for 200
•Cutlers Hall – Caters for 400
•Mercure Sheffield – Caters for 600
•Double Tree by Hilton – Caters for 400
•Hilton Sheffield – Caters for 260
Loonat Catering has partnered with a number of Asian wedding venues in and around Sheffield and can help to make your Asian wedding day a magnificent occasion.
So whether for your wedding day you are looking for a picturesque setting, city centre location or an elegant surrounding in the Sheffield area it really is up to you, Loonat Catering can facilitate your event in a banqueting suite, marquee, manor home, castle, luxury hotel, resort or spa.
It is also important to consider certain elements before booking a venue: the size, parking facility and other ancillary facilities will help determine the right selection.
Loonat's catering team and dedicated professionals will help create the event of your dreams for your special wedding day in Sheffield. You can select from the wide range of event and catering services, which will take care of table service requirements, cutlery & crockery sets, centerpieces, buffet service, chairs, candy & confectionary packages. So if you are looking for a professional events management company that provides amazing Asian catering for Asian weddings in Sheffield, you really want to consider Loonat Catering Services and their experienced team.
Visit the website now and chose the exquisite dishes from the menu that you would like for your event through the online enquiry page and the Loonat Catering Services event manager will call you back to discuss your requirements further for your Asian Wedding in Sheffield and selecting the right Asian Wedding Venue in Sheffield.