An Asian wedding stage represents one of the most central and important parts of any Indian wedding decoration, so it's important to get it right. beautiful and glamorous Asian wedding stages make Asian weddings and the decoration memorable for the right reasons. Making your wedding stage and decoration just perfect, however, is not an easy task and often many weddings unfortunately are let down by poor wedding stages.
If you want to make sure your big day benefits from the perfect Asian wedding stage along with the decoration, then the following steps can help:
Make it Personal
A wedding isn't just all about glitz and glam; it's also a deeply personal affair. No matter how much you love the Asian wedding stages you saw in a magazine or a provider's catalogue, you will probably be better off resisting the urge to just say "I want exactly that Asian wedding stage!" Try to think of ways, even if only in small touches, to customise it to your own personalities, tastes, and even quirks. There is nothing wrong with finding Asian wedding stages and decorations that you just happen to absolutely love and striving to create it for yourself, but it is almost always better to personalise that idea rather than go for a completely off-the-peg setup stage and decoration.
Consider the Big Picture
The wedding stage is going to be a big and prominent feature of any wedding, however with Asian weddings it is the feature that the whole wedding revolves around. The direction Asian wedding stages take is a direction that everything else tends to follow. Before you set out creating an Asian wedding stage and deciding on your decorations, make sure you have thought very carefully and completely about the kind of direction you want the décor and the aesthetic of your big day to take.
That way, you can be sure to create your wedding stage and decoration in a way that fits very well with your ideal Indian wedding theme and vision, and this will take you a long way towards creating your perfect Asian wedding stage and setting as a whole. Otherwise if you are unclear from the onset then the whole process will unnecessarily become complicated with changes revisions and last-minute decisions and issues.
Get Professional Help
A professional Asian wedding stages planner is most likely going to be involved with anything more than the most basic and improvised of wedding stages anyway, so it often pays to seek their help from the earliest opportunity, even before you decide on a theme, we say the sooner the better it will be if you engage in conversation with them.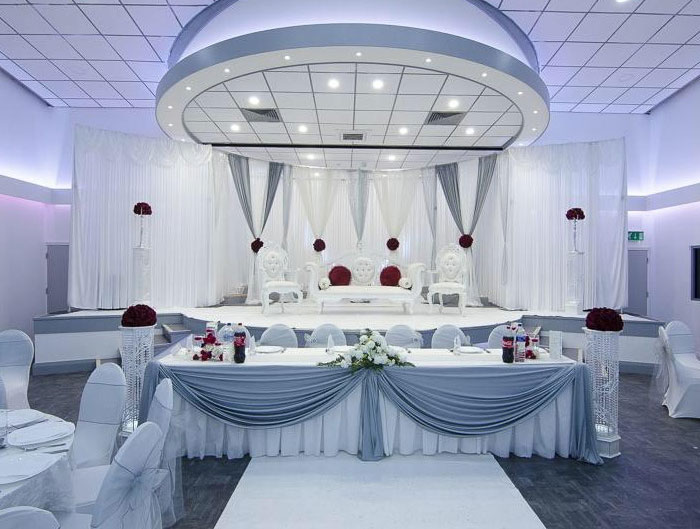 Good Asian Wedding stages planners can then provide valuable help, advice on suggestions on what is practical, what will work, and what you might want to think about. While it is true that only you really know what is going to make for your perfect wedding stage and decoration, it is the professionals who know how to actually bring it about and also have the best understanding of which colours, material, lighting and elements will work well together and which will not.
Incorporate the venue
A good Asian Wedding Stage designer will be able to ensure the characteristics of the building is incorporated into the design of the stage and décor and that your Asian wedding stage is appropriate and fits in with the surroundings décor and characteristics of the building and doesn't look out of place (At least internally). For something special a good planner might be able to take the season into account when planning your Asian wedding stage
A good professional will work with you, allowing you all the freedom you need to guide your wedding stage and decoration in the direction you want, while giving you practical advice and making suggestions that you may not have thought of without their help.
Mehndi stages are also popular at many Asian weddings so have a thought about this too, you might also want to plan a mehndi stage when organising your special Asian wedding stage. Mehndi stages don't need to be as glamorous as Asian wedding stages but they do add a nice touch to the evening.
When it comes to planning your big day, Loonat Catering Services can help you with a lot more than just catering. Thanks to our long standing partnerships with a number of the UK's leading finest venue décor companies, we can help with many aspects of decorating your venue including Asian wedding stages.
No matter what your budget is we can advise you and support you, we can also put you in contact with the right Asian wedding stage designers for you
To find out more, please contact us and see how we can help.