Naturally, your wedding day is a day where you want everything to be as good as it can be, especially the big details. The food at the reception is one of these big details. There are lots of companies that promise comprehensive Indian catering services for weddings including varied menus and Asian wedding cakes included, but how do you know you can trust a company to provide the high standards of service you need for your wedding? We at Loonat Catering Services can boast many of the hallmarks that mark out a great service from a more mediocre one, including:
A Strong Track Record
One of the best ways to assess a service is to look at its past track record.
•Is the business long-established, giving it plenty of experience in catering for events effectively and efficiently?
•Are they experienced with dealing with events where the standards must be as high as an exquisite wedding demands?
•Can they proudly showcase glowing testimonials from happy customers on their site?
•Have they catered at any prestigious events or are they approved caterers for major venues?
•Have they won or been nominated for any major awards?
At Loonat Catering Services, we are proud to be able to answer yes to each and every one of these questions; in business for over twenty years in the Asian Wedding Catering industry, with a string of happy clients including events at major luxury venues, and recently nominated for the British Asian Wedding Awards.
Beautiful Asian Wedding Cakes
All the food has to be good for a wonderful wedding reception, but more recently with Asian weddings if one part is more important than any other for your special day it's the Asian wedding cake. It's not just a major part of the dining experience, but also an impressive centrepiece for the decorations so it should be as beautiful as it is delicious.
But while every high street bakery can provide a standard Western-style wedding cake, brides and grooms who prefer Asian wedding cakes or  would like fusion Asian wedding cakes which are more in keeping with Indian and Asian cultural traditions and the aesthetic of the event have fewer options and end up having to go with the traditional wedding cake or very poor substitute Asian wedding cakes.
Often, they have to trust a specialist to find someone who really understands how to provide good Asian wedding cakes and will also be able to provide the quality and detail they want. A good Indian wedding caterer should be experienced enough able to provide you with a unique and bespoke luxury Asian wedding cakes, so you don't have to hunt around for someone else before the catering experience will be truly complete and memorable.
Good quality Asian wedding cakes not only need to look beautiful but the right quality ingredients need to be used to make the perfect Asian Wedding cake. A true quality Asian Wedding Cake will be unique in character and design and made to your exact specifications.
Whether you are wanting a two tiered, three tiered, four tiered or more Asian wedding cake or if it is a variety of sponge or fruit cake you require for your special Asian wedding cake our Team at Loonat can help you through the decision making process to ensure your Asian wedding cake is to your exact specification.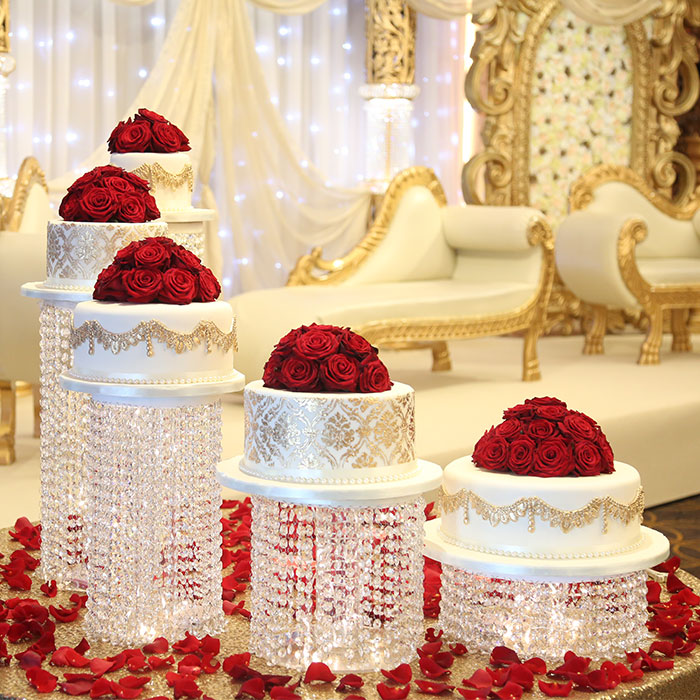 Choosing an Asian Wedding Cake
When choosing your perfect Asian Wedding Cakes to make sure it is the right one for you make sure you are fully armed with the right information beforehand and are fully informed when comparing and making your decision.
Taste the cake
As the saying goes the proof is in the pudding. First of all view the sample cakes, taste and appreciate the various flavours. Recently Coffee, nut and citrus flavours are becoming popular
Select your design / style
Wedding cakes are meant to be unique and meant to reflect the setting and theme of your wedding so don't be afraid to be different nor be forced into choosing a boring dull Asian Wedding Cake. The cake should be one of the last things you choose and ideally after you book your florist so all the elements of the wedding including the venue, decor, dress etc can be incorporated into your Asian Wedding cake to ensure it is the centerpiece.
Understand the size you require
For English weddings the rule of thumb is a three-tier cake will serve 50 to 100 guests and a five-tier cake will serve 200 guests or more but as we know with Asian Weddings the numbers will drop once the food has finished and not everyone is into Asian Wedding Cakes and not all will hang around for the cake. There will also be those who will have had too much dessert and sweet dishes to have space for wedding cake.
Appreciate the pricing
It's crucial that to avoid any misgivings you appreciate the costs involved with Wedding Cakes, discuss your budget beforehand so that there are no misunderstandings or hard sells. Also understand your options in terms of types of icing, shapes, colours and handiwork as it's the detail that you will end up paying more for when it comes to Asian Wedding Cakes.
Find ways to be cost effective
Some people even go as far as serving the cake as a dessert so as to skip a course, not that we encourage you to do so, but it will ensure that the money you spend on the cake is well spent. However if you are planning to have sweets, ice creams and desserts you could consider a cake half the size as servings will be smaller and so will be the price. Also by using fresh fruit or elegant flowers it will be a cost effective way to give your Asian Wedding Cake an amazing finish.
Clarify the details and ingredients
Understand exactly what you are going to receive, what's going to be plastic what's going to be real, what will be edible and what wont be. Clarify from the onset whether it will be Buttercream or Fondant, each has its pros and cons, but decide what you prefer. Also for any specific dietary requirements for yourself or your guests ensure you have the relevant conversations beforehand to ensure the best Asian Wedding cake.
Also depending on the time of the year make sure you chose the right ingredients that can cope with the heat and the weather.
Be realistic with your expectations
We will let you into a secret………………….many of the amazing cakes you see in the magazines have had the pictures edited and photoshopped or have been taken as soon as the cake was made, setup and ready and in some instances they are just artificial displays and not from actual edible ingredients, no wonder they look amazing.
Imagine if your cake has been made, transported and sat around for half a day then it may look slightly less than perfect, so think carefully over what details and designs you require to ensure the best visual appeal for your Asian Wedding cake.
Get the display right
No wonder how beautiful your Asian Wedding cake is, all the effort put in by yourself and the cake maker can be washed away if you get the display wrong. Chose the right location and perfect table to do justice to your cake by ensuring the best presentation possible.
It's all in the finishing
Even a plain simple cake can be brought to life with a beautiful cake topper, you don't have to stick to the traditional boring cake toppers, ask your designer to come up with something special and personalised. Don't be afraid to be creative with your Asian Wedding cake.
Allow adequate time
Don't leave it too late in ordering your Asian Wedding Cake, allow good time so that you can finalise the details and any elaborate designs, also ensure on the wedding day sufficient time is allocated to allow transportation and the setting up of the cake.
Commitment to Quality
Above all, one of the most important points that sets apart a truly great Indian catering service, especially when it comes to weddings, is a commitment to providing you with the highest levels of service and quality. This should be the case across the board – high-quality and delicious food (along with an extensively varied menu), and standards of service that are just as high in quality and efficiency. On a day as important as your wedding day, nothing less will do or should do!
Our team at Loonat Catering Services have extensive experience of understanding the needs of our customers and in creating a truly amazing Asian Wedding Cakes that fit in with the theme and decor that you decide to go with for your Asian Wedding.
We also ensure any dietary requirements you may have whether it be vegetarian, halal, alcohol free, gluten free, nut free etc are met and fulfilled.
As our Asian wedding cakes are bespoke and created especially for your occasion, please contact us direct to discuss your requirements further.