How can that possibly taste good? Well it does, it taste absolutely amazing. With orders booked for this year already, chocolate samosa is making people number one dessert to have. Here at Loonat Catering as a specialist Indian caterer we have come up with five reasons to have chocolate samosa at your event.
1)     Chocolate taste sublime with a scoop of ice cream.
Loonat Caterers event team have given us some feedback from last years event and it's a big thumbs up for chocolate samosa with vanilla ice cream. Guest loves it, client love it, organisers love it and it's time you love it!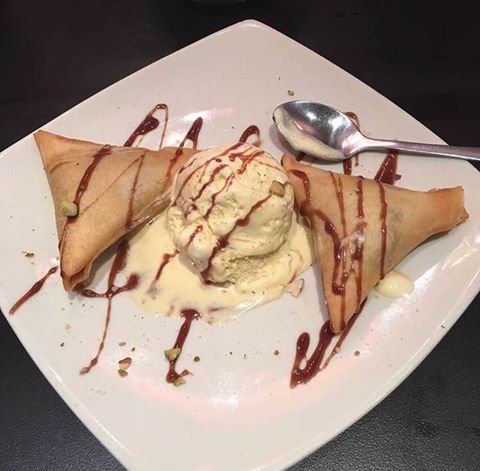 2)     Sweeten the tooth to start the day
At Loonat Catering Service we always want to be different and unique and being an experienced Asian halal wedding caterer. We suggest you scrap the traditional Indian appetizers and start with a delicious mouth-watering chocolate samosa.
3)     Be unique at your wedding
Why don't let your guest be in awe of your menu. Chocolate Samosa can have that effect, do it before some else wants it. Be a trend setter
4)     Even Morrison have got onto the craze
Looks like where not the only one wanting to tell the world how amazing this chocolate samosa taste. One of the major supermarkets has recently started putting this delicious dish on their shelves. Obviously it's not good as ours!
5)     No brainer
Samosa is and will always probably be one of the most popular items to have at your party, wedding or any other occasions. So let us Loonat Catering Services be your caterer and provide you with distinctive Indian delicacy.
Contact Loonat Catering Services on 0800 505 3229.