Indian Catering in Leicester & Batley for Weddings
Recently a customer in Batley contacted us with an usual request for their wedding day, the family required us to cater for their Walimah in Batley which was straight forward. However, as the Groom had studied in Leicester for a number of years he wished to invite his friends over from Leicester to Batley, but due to a clash in programmes in Leicester and unavailability of certain close friends the Groom made the decision to arrange for Indian Catering in Leicester for those that were unable to make it to Batley.
After having been through the various Indian Catering options on the menu and the packages on offer, a menu was chosen for those in Batley and a separate menu for those in Leicester was agreed upon, additional services required in Leicester & Batley along with final numbers were confirmed.
The Groom wanted to ensure a special experience for everyone in Batley and Leicester, but especially for those in Leicester unable to attend Batley the groom wanted to go that extra mile, so certain specific requests were made for the function in Leicester, he also arranged for those living even further down south to have the option of travelling to Leicester rather than all the way to Batley.
As one of the leading Indian Catering service providers in the Leicester and Batley area, we have been providing catering services in Leicester and Batley for over 20 years and the due to the long-standing working relationships with venues in Leicester and Batley along with the other wedding service providers, the Team at Loonat Catering took away the stress by liaising with all the venues and service providers including the Leicester venu and successfully arranged a timely delivery and serving of hot food for all the guests in Batley and Leicester.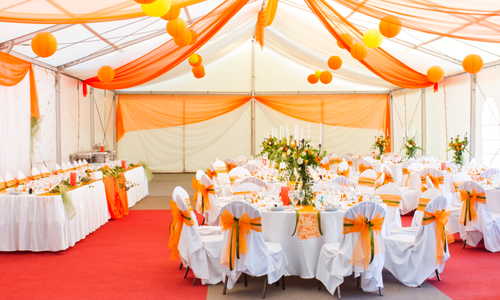 Amongst the mouth-watering Indian catering dishes that were served included the traditional Nan Gosht, our Special Lamb Biryani, Butter Chicken, Sheekh Kebabs and our special fusion dish Chicken 65.
The Brides family through coincedence also chose us to be the caterer for the Rukhsati where we delivered our unique Lamb Korma speciality and our wonderful Chicken Achari.
Both Families were delighted with the Indian catering food at all the events that we catered for and guests in Batley and Leicester were impressed with the food on offer with one cheekily commenting that "until today I didn't realise Loonat Catering could make such tasty Biryani!"
However complicated your function is and whatever logistics are involved regarding your venues and guests, our experienced team at Loonat Catering Services with over 20 years experience of Indian Catering and Events Management across the UK can breakdown the tasks and help you through your organising of the event to ensure a memorable day for all.
No matter what challenge you face in organising your event with our track record and experience of successfully delivering quality food you can be rest assured that we wont be fazed and will deliver an ultimate experience for you and your guests.
Contact us now to discuss your requirements on 0800 505 3229 or info@loonatcs.co.uk, we also have an online enquiry Menu page to make the whole process easy for you.