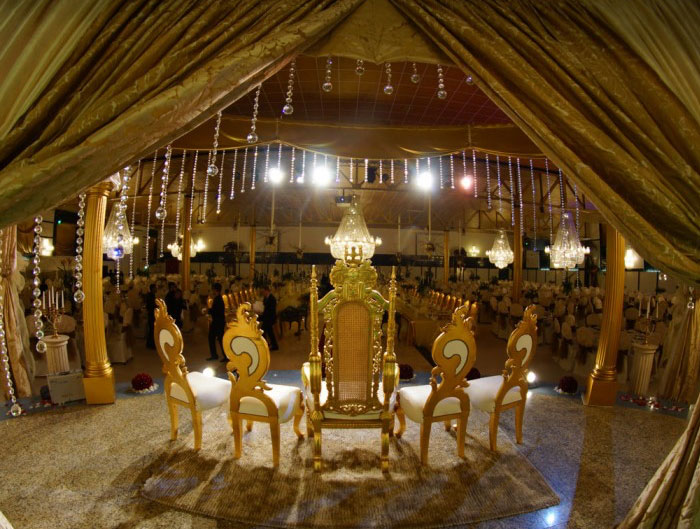 Bolton is a diverse and multicultural town in the heart of the North, close to one of the UK's greatest cities in the form of Manchester. As such, there are plenty of great options for those looking for a grande Asian wedding venue in Bolton and for those looking to plan an Asian wedding. These include some fantastic Indian catering service providers for weddings in Bolton, such as the award-nominated Loonat Catering Services, and a range of wonderful venues.
The venue can be one of the hardest things to choose when planning an Asian wedding. Most venues don't specialise in Asian weddings, but many make a point of saying they are able to host them. But which are truly great venues for Asian couples, and which are just trying to attract as much wedding business as possible?
Five of the very best Asian wedding venues in Bolton that the team at Loonat Catering services would like to mention are:
1. Bolton Excellency
Bolton Excellency has a strong reputation one of the, if not the best Asian wedding venue in Bolton if not in the entire North of England. The physical venue is fantastic, and includes ornate entrances, beautiful chandeliers, and a full theatrical lighting system. This is combined with high-quality service and plentiful experience of catering to Asian cultural events and weddings.
2. 3D Centre
The 3D centre is a great and decidedly friendly Asian wedding venue in Bolton, which has becoming increasingly popular because it provides the perfect blank canvas. It is a fairly basic venue largely because that is what it is trying to be; it gives you a good space and provides the basics well so you have plenty of room to customise with your own choice of décor, catering, music and so on. Poor parking is the only real let-down as an Asian Wedding venue.
3. The Albert Halls
The Albert Halls is a historic venue right in the heart of Bolton; in fact, it forms part of the Town Hall. It is primarily a theatrical venue, but also serves as one of the town's most popular venues for a huge range of events. Weddings are high on the list, and the venue has been an Asian wedding in Venue for decades including hundreds of individual marriages. The venue is flexible enough to accommodate everything from quiet family gatherings to the biggest and grandest of Asian weddings in Bolton and the surrounding area.
4. Bolton Arena
Bolton Arena is a fantastic sports and leisure facility in Bolton, which also serves as a great Asian wedding venue in Bolton. The Arena is hard to beat when it comes to size, with the capacity for anything up to an incredible 9000 guests. The venue makes a point of catering to those from Asian backgrounds including things like Mendhi Nights and Sangeet as well as actual ceremonies.
5. Bolton Whites Hotel
There is little to distinguish Bolton Whites Hotel as an Asian wedding venue in Bolton specifically. All the same, it is one of the town's stronger wedding venues in a more general sense, and is perfectly capable of hosting ceremonies drawn from various Asian cultural traditions. It therefore provides a fantastic setting which, in combination with the right Asian catering services, decoration, and so on, can easily become the scene of your dream wedding.
Wedding Caterer
Once you have chosen a venue for your Asian wedding venue in Bolton, the next big step will be to choose the right wedding catering service provider. Wherever you choose to hold your big day, the team at Loonat Catering Services can help ensure that by serving the perfect food and by being your ideal wedding caterer in Bolton your event runs smoothly and that your guests will benefit from a menu of truly delicious Asian dishes both traditional and modern.
With over 20 years experience of Asian Catering and serving up delicious Punjabi, Gujarati, Indian Vegetarian and Halal Catering at a number of events and functions in Bolton you will not be disappointed with the wide range of dishes that will be served up fresh on your special day in Bolton.
We at Loonat Catering Services are a professional reputable caterer and we do not cut corners when catering, we use the finest of quality ingredients and source our fresh ingredients locally. We work from a purpose-built food grade spacious catering unit, all our staff are qualified in food hygiene standards and we have a five-star hygiene rating from our local authority.
Unlike many other caterers we will communicate clearly with you all the way and hold up the highest professional standards to meet and exceed your expectations. We take pride in delivering exquisite food!